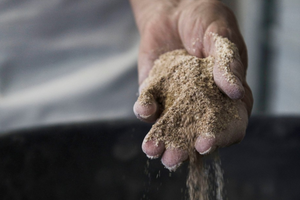 Wheat from before the 1950's milled using 1930's technology.
From Field to Flour
We source only organic, non-GMO varieties for our products. Our wheat is grown in nutrient-rich soil and is free from chemicals. We have personal connections to all of our farmers and suppliers and value traceability and transparency in our processes.
A process worth preserving
We source pre-1950's, pre-hybridized heritage wheat to mill into premium more digestible flour for the home baker. We use a high-velocity milling technology from the 1930's called the "Unifine Mill". Instead of stone-grinding the grain, the mill shatters it into minute particles, which produces a super-fine and fluffy flour. We resurrected the old mill, we resurrected the old wheat, and we resurrected the old flavor. Is new really always better? We found the exact opposite.

What makes our process special?
We're proud of our process so you can be proud of the flour you bake with.
Exclusively Heritage
One of the only mills in the country that mills exclusively heritage wheat

Small Batch Milling
We mill our products in small batches to ensure quality control

Unifine Milling
1930s' milling technology yielding the finest whole wheat grind on the market

Organic
Grain grown without harmful chemicals, pesticides, & herbicides, including glyphosate

Zero Additives
When you use the earth's best ingredients, there's no need for man-made additions

Never Bleached or Bromated
Our white flour is never bleached or bromated

FLOUR FOR THE EARTH
Heritage wheat has a deep root system that allows the roots to reach water deep down in the soil. This root system helped Turkey Red wheat survive the Dust Bowl. Our heritage wheat farmers replenish the soil with vital nutrients and minerals with these sustainable crops while using less water which helps them fare better in drought conditions. They are able to use natural farming practices to protect the earth, their crop, and the consumer.
ORGANIC IS THE ONLY WAY
All the things your body needs, nothing it doesn't. Being certified organic means none of our products have been genetically modified and we are able to produce premium products without the use of toxic chemicals. Our organic products maintain maximum nutritional value through minimal processes. Sunrise Flour Mill and all our farmers are proudly certified organic and make it our daily mission to contribute to a sustainable future for the many generations to come.