More digestible, nutrient rich, heritage wheat for everyone
The Best pancake mix
Order our Pancake/Waffle Mix and watch for smiles + listen for mmm yum!
Heritage Pizza Flour
This flour makes a pizza crust beloved by professionals and home cooks alike!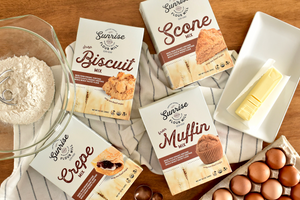 Heritage Baking Mixes
Perfectly proportioned heritage mixes that delivers delicious classics in a moment's notice!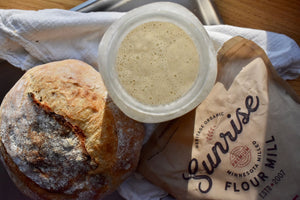 100 Year old Sourdough starter
Our sourdough starter is perfect for beginners and experienced bakers alike!
A Great Story
In retirement, Darrold, who had been doing most of the cooking for many years, decided he wanted to branch out into bread baking. He was trying to recreate the wonderful European breads he and Marty had eaten on their travels. We wanted whole wheat and the first 6 months saw most of the bread go in the trash as hard, tasteless and pretty much inedible. The more we looked into the history of modern flour milling and bread making, the more convinced we became that it was time to return to the basics.
★★★★★

The best flour I've ever used. Makes the best bread, pastries, cookies and pizza dough. I'm so happy with the quality, health factors, amount of fiber, and the fact that there's no bromine in the processing.

Kimberly W.
★★★★★

Simply the BEST!! Why use any other flour?

Ted G.
★★★★★

This is the best flour. Everything I make with it turns out wonderful. I was gluten free for twelve years. After discovering this flour I have no problem with anything I make with it. Thank you so much

Suzanne G.
★★★★★

Being gluten sensitive for 10+ years one of the things I missed the most was great pizza. I can now make the best pizza crust ever! Thank you.

Elizabeth M.
★★★★★

Their products and customer service are the best!

Candace C.
★★★★★

I adore this flour. All of my breads come out looking great with wonderful flavor. I use this bread flour to feed my starter resulting in the best sourdough.

Lisa N.
★★★★★

Best flour I've ever used. Silky feel and bakes up well. I have a cousin with a gluten sensitivity and she eats it with no problem!

Barbara M.
★★★★★

We love all Sunrise Mills products! So thankful for this company and their healthy, easily digestible flour!! Makes best sourdough bread, ever

Kimberly H.
★★★★★

This flour is the best around and delivery is quick!

Shannon T.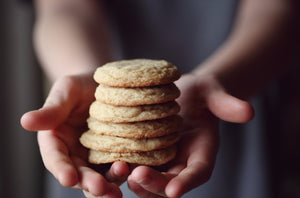 Sunrise Rewards
Get ready to earn discounts for ordering, reviews, refering friends and so much more. We make it easy to be rewarded!
Get Started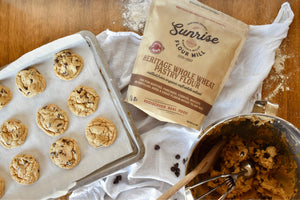 Find Yummy Recipes
Great recipes start with great ingredients. We show you how to use our high quality ingredients to make the foods we love to eat and make at home ourselves!
Find Recipes
Organic Heritage Wheat Flours, Organic Pastas, Organic Cereals & Organic Baking Mixes
At Sunrise Flour Mill we want to help people rediscover real food. All our products are made with heritage wheat flour which is more nutritious, more flavorful and more digestible than modern hybridized wheat. Many of our customers with gluten intolerance find our heritage wheat products more digestible and they are able to enjoy foods they have avoided for years. 
Shop our organic heritage wheat flours like our organic pizza flour, organic whole wheat pastry flour, organic bread flour, organic whole wheat flour and our organic all-purpose white flour. We also make nutritious and healthy cereals, pancake mix, waffle mix and organic oatmeal. We have even created several organic baking mixes that use our heritage wheat flour. Choose from our organic scone mix, organic drop biscuit mix, organic crepe mix or our organic bran muffin mix. If you love pasta, we recommend you try our organic dry pastas. We carry organic fusilli noodles, organic rigatoni noodles and organic radiatore pasta.
We hope our heritage wheat products, baking tools and recipes will inspire you to bake for your friends and family. If you have any questions about our organic heritage wheat flours, organic pastas or our organic cereals please contact us, we're always happy to help!