Description
What is Heritage wheat?
Subscriptions
Shipping
Ask a Question
About Bread Knife by Mercer (10″)
The Mercer 10" Bread Knife is the best serrated knife we have used over our decades of home baking. It's far superior to any we have used. Slice bread cleanly, accurately, and easily.

What is Heritage wheat?
Heritage Wheat-The Way Wheat Used to Be:

Heritage wheat was the predominant wheat grown in America up until the 1950's. Many people find it more digestible than modern wheat. Its long deep root system allowed it to survive the Dust Bowl, and gave the Midwest its famous nickname "The a Bread Basket". Heritage wheat was a staple in every household. The history of it can be tracked to biblical times and has been responsible for nourishing generations. It was grown before the introduction of intensive scientific plant breeding.This wheat is experiencing a resurgence.
Subscriptions
Sunrise Flour Mill provides an easy subscription service to order our products. Your subscription will automatically renew on a recurring basis at which time your credit card will be charged automatically for the subscription products until you cancel your subscription. Taxes and shipping fees may apply. You may cancel your subscription at any time from the Subscriptions section of your account.
How to create a subscription
Simply find the products you want to order on subscription and select "Subscribe and save", then choose the frequency for delivery 30 days, 60 days, 90 days or 120 days. Finally add the product to your cart and proceed to checkout. You can add as many products as you like to your subscription.
How to manage your subscription
To manage your subscription login in to your Sunrise account and you will have tools to adjust, pause or cancel your subscriptions. 
If you have any questions or need assistance please contact us
Shipping
We ship all our product using UPS.  We offer UPS at checkout to give you the best value. 
UPS Ground Discounted rates apply for all orders under $50
$9.99 FLAT RATE SHIPPING For orders $50 or more
(Lower 48 states only. Alaska, Hawaii & US territories limit 18 lbs.)
Customer Reviews
Really nice knife..cuts easily and well
Very good quality bread knife. Well worth the price.
My son is very happy to have this knife!
Great knife for cutting straight slices.
Best bread knife I've ever had!!!!!!
Needed a good bread knife to slice the sourdough bread I have been making and this knife slices great.
Love baking with ALL of the Sunrise flours. On my last order I splurged and got the bread knife, it's the best. I didn't realize how bad the knife was that I was using to "saw" my bread with. It wasn't a bread knife it was just one I could make work. I feel like after 1- 1/2 years of bread and pastry baking I deserved to have a knife designed to cut bread. I love that knife!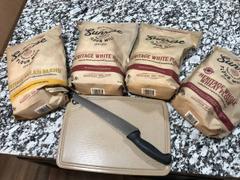 Bought as gift, appears it will cut the bread.
Excellent, high quality bread knife. We have had many brands of knives over the years and this ranks high among them.
Good bench scraper. Useful for many tasks in the kitchen We are going to keep this one in our new "Bread-makin cabinet" that is dedicated to our bread making equipment and supplies.
This knife has a lovely feel and weight. Slices through the crustiest of crust with ease.
I'm in love with this knife. Was using a bread knife from Pampered Chef and it's no match for this baby! You definitely want a good knife on hand!
I've been missing out by not owning one of these!
Does what it's designed to do.
The best of the best! Easy, clean cut on all loaves and especially on hard crust. Great handle grip and finger relief.
OMG! Can't believe I waited so long to order this! Makes it sooooo much easier to divide the dough and help with the folds, as well as pick up the sourdough and place into the bannetons! Plus it helps with clean-up to get the sticky dough bits off the counter! I didn't think I needed it for a long time...I was wrong!
Ordering is easy and the items are always delivered promptly.