Description
What is Heritage wheat?
Subscriptions
Shipping
Ask a Question
About Heritage Sourdough Starter Kit
This starter kit includes:
Heritage Bread Blend (5 lb. bag)
This is a unique blend of two heritage wheat flours - Turkey Red and White Sonora. Turkey Red is a strong, hard winter wheat that's rich in protein and has excellent baking qualities. It has a pure white endosperm that will dazzle you. No need for bleaching this flour. White Sonora is a soft wheat with a rich, nutty flavor and creamy-gold color. Together they make a loaf of bread you'll be proud of whether it's sourdough or made with yeast.

This flour is heritage, organic, non-bleached, non-bromated, and has zero additives.
Sourdough Starter
This freeze-dried sourdough starter is made from the same starter we have been using at Sunrise Flour Mill for the past six years. Now, using freeze-dried technology, we are able to mail samples of this starter nationwide to help people start baking their own delicious and nutritious sourdough bread!
Like the well-known San Francisco Sourdough, every sourdough starter has a story, lore, or mythology about its origin. This sourdough strain originally came from Italy. It was brought to us by a friend who came across it while traveling in Bolivia. Her Italian friend in Bolivia told her the starter had been maintained for over 100 years and had some very unique characteristics.
Our friend shared some with us and insisted this was a special starter. We quickly discovered it was indeed special, and the rest is history!
What is Heritage wheat?
Heritage Wheat-The Way Wheat Used to Be:

Heritage wheat was the predominant wheat grown in America up until the 1950's. Many people find it more digestible than modern wheat. Its long deep root system allowed it to survive the Dust Bowl, and gave the Midwest its famous nickname "The a Bread Basket". Heritage wheat was a staple in every household. The history of it can be tracked to biblical times and has been responsible for nourishing generations. It was grown before the introduction of intensive scientific plant breeding.This wheat is experiencing a resurgence.
Subscriptions
Sunrise Flour Mill provides an easy subscription service to order our products. Your subscription will automatically renew on a recurring basis at which time your credit card will be charged automatically for the subscription products until you cancel your subscription. Taxes and shipping fees may apply. You may cancel your subscription at any time from the Subscriptions section of your account.
How to create a subscription
Simply find the products you want to order on subscription and select "Subscribe and save", then choose the frequency for delivery 30 days, 60 days, 90 days or 120 days. Finally add the product to your cart and proceed to checkout. You can add as many products as you like to your subscription.
How to manage your subscription
To manage your subscription login in to your Sunrise account and you will have tools to adjust, pause or cancel your subscriptions. 
If you have any questions or need assistance please contact us
Shipping
We ship our product using UPS.  We offer UPS at checkout to give you the best value. 
UPS Ground Discounted rates apply for all orders under $50. 
Some orders that are under $50 will be delivered by UPS Surepost. This method will be determined by the size of the order, and the final destination during the shipping process. UPS will suggest to us the best method of delivery for the area.
$9.99 FLAT RATE SHIPPING For orders $50 or more
(Lower 48 states only. Alaska, Hawaii & US territories limit 18 lbs.)
Customer Reviews
100
reviewers would recommend this product
Write a Review
03/16/2023
Sharleen P.

United States
I recommend this product
Loving my sour dough bread starter
I recently bought the sourdough starter kit and am loving it. I did not have any prior experience with making sourdough bread, but I am learning. I've successfully made quite a number of loaves and used the sourdough starter discard to make brownies and crackers. I've also passed on the starter to friends. Everything is turning out great, and I'm enjoying the learning process. My sourdough bread does better when I add 300g of starter vs 250-275g. Water/hydration is the key for me this far.
03/02/2023
Jo Y.

United States
I recommend this product
Missing product
The starter is fantastic, love it. My bread is fabulous. Only complaint I have is I only received the handle for the lame NO blades. So I can't use it. Everything else is wonderful.
03/01/2023
Maria B.

United States
I recommend this product
Amazing quality
I love buying flour from Sunrise flour mill! The sourdough starter was super easy to "bring back to life," and I just made the most delicious loafs with it a couple days ago.
02/28/2023
Tyler B.

United States
I recommend this product
Birthday Gift
This was bought for my father as a birthday gift. After doing much research on different places I found the story about Sunrise to be the best. They did not disappoint. My father absolutely loves it and I can wait to try it when I visit next. Thank you!
02/23/2023
Yvonne G.

United States
I recommend this product
100% Recommend
Received my starter and began feeding it the same day. Instructions were very easy to follow. My starter has grown tremendously and I have since purchased a larger jar for storing. I have already made several loaves and family and friends are placing orders. I have since put my flour on auto-ship. So glad I found Sunrise.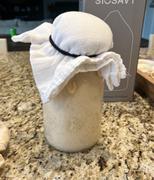 02/20/2023
J C.

United States
I recommend this product
Excellent kit
I have never made sourdough bread. And never made a sourdough starter, either. The directions were easy to understand and follow. Today is the 4th day and the starter is alive! Tomorrow we bake. I am so looking forward to it. And I am thankful that a bread recipe is included in this kit. I have been gluten-free for years and have missed eating real bread. Hopefully your flour and starter will enable me to enjoy real bread again.
02/03/2023
Bethany T.

United States
Great starter kit
I bought this as a starter kit for my kids and I to do proofing and learn bread baking together. It's a great kit for the price and the quality of the banneton baskets is good-just make sure to "season" them the first time and maintain properly between uses.
02/03/2023
Becky P.

United States
I recommend this product
Great starter
So easy to use and is doing amazing. Looking forward to making more bread and bagels
02/02/2023
Jacqueline M.

United States
I recommend this product
Starter.
The starter is awesome. It grew wonderfully. This is my 2nd starter. I also bought a kit for my cousin. I'm very happy that it only takes a small amount of flour to reconstitute it. Good savings. The starter imparts a very mild sourdough flavor. My family really enjoys it.
01/02/2023
Tammy M.

United States
I recommend this product
Fantastic- was exactly as advertised
Loved using the flour! Performed beautifully.
01/02/2023
Anne T.

United States
I recommend this product
Love it!
So happy to have ingredients I can trust for my bread!